SOULTONE CYMBALS ARE PLEASED TO BE SUPPORTING FOOTES LEARN FOR FREE DAY ON SATURDAY 29th JUNE , AT THEIR 41, STORE STREET, BLOOMSBURY STORE.
All Soultone Artists are reminded that Soultone are supporting Footes Learn for Free Day at their 41, Store Street Shop on Saturday 29th June , we have two Young Soultone Artists at the Store during the day Morgan Simpson and Zoe Pascal showcasing our products , and some great Soultone Cymbals why not call in during the day and check them out.
Soultone representatives will be on site to discuss your requirements.
 SPECIAL OFFER IN ASSOCIATION WITH FOOTES FOR LEARN FOR FREE DAY.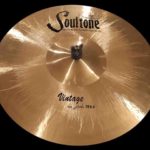 THIS UNIQUE VINTAGE OLD SCHOOL 64 LINE CRASH RIDE WITH SUNBURST FINISH AVAILABLE ON THE DAY AT A VERY SPECIAL PRICE THIS CYMBAL HAS A NORMAL RRP OF £499 , CHECK WITH STORE FOR ONE OFF PRICING DEAL – FOOTES   0207 3232213.  REMEMBER THERE IS ONLY ONE OF THESE CYMBALS.