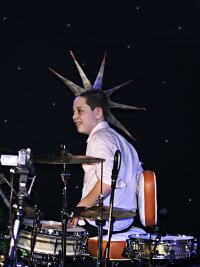 Ford Drums are pleased to announce that Richard Rayner (Young Drummer of the Year 2009) has signed an agreement to endorse Ford's range of Drums and Smart Ass Seats with immediate effect. Richard will be performing throughout the year at clinics and exhibitions and with his various performing ensembles.
Richard will be playing a Ford Maverick 6 piece Fusion Kit for all his engagements and clinics. Showcased at Winter NAMM 2010, the Maverick Series is designed to allow a top quality drum kit to be toured and gigged with confidence, whilst knowing that the exterior is protected by its BTS Elastomer Kevlar finish. This finish can take anything that's thrown at it on the road whilst protecting a high quality instrument and in no way prejudicing its tonal qualities.
In fact Gerry McDonnell of Mike Dolbear.com has said
"I must reiterate that the Ford Maverick was the best sounding kit at NAMM 2010 ( you can quote me on that!) and I wanted one as soon as I heard it."
Richard's year has been full on. After winning the Young Drummer of the Year 2009. He also took the Junior Guildhall Percussionist prize 2009 and the Jam Percussion Award. Richard toured with Thomas Lang and played at a clinic with Mark Schulman, as well as playing at Musiclive at the NEC, The Royal Albert Hall including the BBC Proms, The National Drum Fair, The Royal Opera House Percussion Day, The International Drum Extravaganza, Fairfield Hall & St John's Smiths Square. He has appeared in Drummer & Rhythm magazines as well as The Beat Book – a new publication.
Richard said"I am absolutely delighted and really excited about working with Ford Drums and Adrian Darby. Knowing Adrian as I do through the Smart Ass Seat endorsement , I am really happy and look forward to a long term working relationship. His belief in me has been consistent & inspiring. I have to say that when I played the Ford set, I was blown away, and feel very fortunate to be playing such a fantastic quality instrument. This year is already looking like it will be a busy one. I am already booked for The Royal Festival Hall, The Royal Albert Hall, Music Live 2010 and many other appearances and clinics, and I will be playing them on the best quality, and the best sounding kit around."

Adrian Darby, Head of European A+R, Ford Drums said: "I have been monitoring Richard's development over the last two years, and we have worked together recently as Richard endorsed our Smart Ass Seats. I truly believe he is an International Star in the making. We could well see a new phenomenon, a young British big band star of the future. Whatever direction Richard takes in his musical career, he will do it with style, charisma and humility, and I will make sure that Ford Drums are there to support him.
A class act needs a class kit, and that's what we are all about."
Richard also Endorses Zildjian Cymbals, Aquarian Heads, Vic Firth Sticks, Protection Racket Cases, Baskey Accessories, and Quick Stick Holders.
Enquiries about Richard's availability can be made via his website www.richardrayner.co.uk