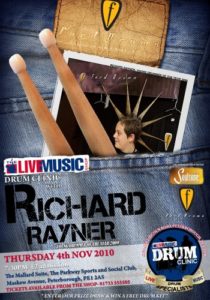 THE LIVE MUSIC SHOP. PETERBOROUGH is proud to present: A Drum Clinic
on Thursday 4th November, with Richard Rayner ( Young Drummer of the Year 2009) at 7:30pm – £2 admission at The Mallard Suite, The Parkway Sports and Social Club, Maskew Avenue , Peterborough, PE1 2AS , tickets from Live Music 01733 555505.
Ford Drums and Soultone Cymbals are pleased to be supporting a Drum Clinic hosted by The Live Music Shop, Peterborough, one of our Ford and Soultone Retailers.
Richard Rayner,Ford Drum Artist who plays a Ford Maverick Touring Kit, will headline the Clinic. He wil be supported by Paul Blant, Live Music Manager, who will showcase the Soultone Cymbals Range. We will have a large range of Soultone Cymbals and Ford Snares and Seats on display on the night.
We look forward to meeting you there with Richard Rayner and Paul Blant and his  Live Music Shop Team.